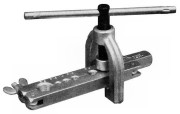 Order Now:
call sales at
1-800-541-6351
7-5 PST M-F or
sales@spokanehose.com
any time
Or, use the quote form below to send a quote request.
"Economical, fast operating tool. Quick slip-on aluminum alloy yoke. Easy operating, swivel-type,hard chrome finished cone assures smooth flares. " "Yoke slips down over top of bar and locks into position with a single turn. " "Flaring Capacity: 3/16," 1/4," 5/16," 3/8," 7/16," 1/2," and 5/8,"O.D. " Forms 45° flares in soft copper, aluminum and brass.