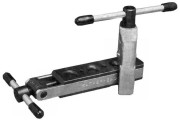 Order Now:
call sales at
1-800-541-6351
7-5 PST M-F or
sales@spokanehose.com
any time
Or, use the quote form below to send a quote request.
"Hard chrome finish cone makes exceptionally smooth flares and minimizes amount of effort needed. Forged steel yoke for maximum strength. " "Sliding die blocks lock in place by lever clamp action. Forms 37 °JIC flares in soft copper, aluminum, brass and bundyweld tubing. " Flaring Capacity: 3/16," 1/4," 5/16," 3/8,"1/2," and 5/8". O.D.