Mandrel Assembly Tool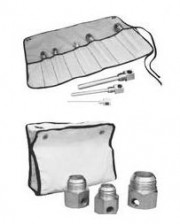 Order Now:
call sales at
1-800-541-6351
7-5 PST M-F or
sales@spokanehose.com
any time
Or, use the quote form below to send a quote request.
Mandrel Assembly Tool
"These tools are required for assembling 069 'D' Series hose ends in sizes 4 through 12 to prevent cutting the hose inner tube. Size 16 through 32 mandrels are used as a holding device when assembling 069 'D' Series swivel ends. Mandrels can be " "ordered individually or in sets as shown. " TH-8 Mandrel Set-Contains 1 each of the mandrels listed plus the pocket roll for convenient storage.