RSV Dispense Coupler - DEF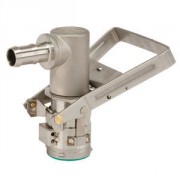 Order Now:
call sales at
1-800-541-6351
7-5 PST M-F or
sales@spokanehose.com
any time
Or, use the quote form below to send a quote request.
RSV Dispense Coupler - DEF
RSV (Reusable Stainless Valve)helps maintain DEF (diesel exhaust fluid)purity. 3/4" barb connects to the suction side of the pump hose. Integrated low vacuum break umbrella check valve built in. Compatible with 55 gallon drums. Dry disconnect - less than 2 milliliters.