Corrugated Exhaust Hose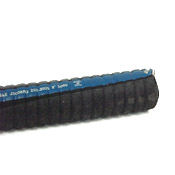 Order Now:
call sales at
1-800-541-6351
7-5 PST M-F or
sales@spokanehose.com
any time
Or, use the quote form below to send a quote request.
Corrugated Exhaust Hose
"Designed to meet the tough demands of wet exhaust. The hose is constructed to resist panting, vibration and wall collapse. " "Helical wire construction allows the hose to accept bending without collapsing. The minimum designed bend radius of the hose is calculated by multiplying the inside diameter of the hose by four. " The corrugated design is more flexible than the hardwall exaust hose making it a better choice for tight bends and retro fit applications.