Softwall Exhaust Hose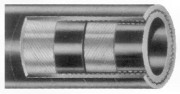 Order Now:
call sales at
1-800-541-6351
7-5 PST M-F or
sales@spokanehose.com
any time
Or, use the quote form below to send a quote request.
Softwall Exhaust Hose
Designed for a wide range of water transfer and discharge applications as well as the tough demands of wet exhaust. The softwall (non-wire) construction is designed for straight routings. An excellent choice for bilge, toilet, scupper and water discharge applications that are straight. Meets SAEJ2006R1 for marine exhaust hose.