Line Relief Valve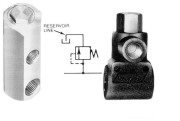 Order Now:
call sales at
1-800-541-6351
7-5 PST M-F or
sales@spokanehose.com
any time
Or, use the quote form below to send a quote request.
Line Relief Valve
"Line relief valves protect your hydraulic circuit and components. Valve is externally adjustable from 700 to 3000 PSI. Has 3/8" NPTF spill in and 1/2" NPTF flow ports. " Capacity to 20 GPM max. Standard pressure setting is approximately 2000 PSI at 10 GPM using 164 SSU oil at 90° - 110°F.