Hose Clamp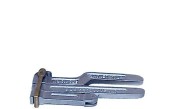 Order Now:
call sales at
1-800-541-6351
7-5 PST M-F or
sales@spokanehose.com
any time
Or, use the quote form below to send a quote request.
Hose Clamp
Made of cast aluminum with brass fittings. For use on single jacket fire hose up to 1 1/2" or double jacket up to 3". It has a built-in spanner for use on fittings 2.5" and smaller. The durable brass locking mechanism holds the clamp in the closed position.