Fire Hose Couplings - Internal Expanded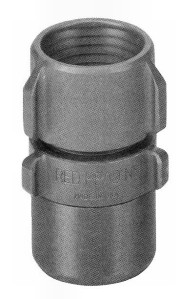 Order Now:
call sales at
1-800-541-6351
7-5 PST M-F or
sales@spokanehose.com
any time
Or, use the quote form below to send a quote request.
Fire Hose Couplings - Internal Expanded
"Lightweight, extruded couplings are made of 6061-T6 high strength, aluminum alloy, 1/3 the weight of brass. These couplings at approximately 40,000 lbs. yield " "strength are twice the strength of cast brass. No castings are used. All parts are made of extrusions. The metal is dense and free of porosity. All are hardcoated " "to reduce electrolysis. Hardcoat is a hard, dense coating formed by converting the surface of the aluminum alloy into a hard aluminum oxide. The coating " resists abrasion and corrosion. This is the standard gray finish on all extruded lightweight couplings. Also available in cast red brass.