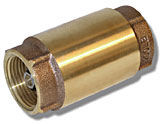 Order Now:
call sales at
1-800-541-6351
7-5 PST M-F or
sales@spokanehose.com
any time
Or, use the quote form below to send a quote request.
"Straight through flow for minimum pressure drop. Ball-Cone check is spring loaded for fast seating action (made of RTFE). " "All wetted metal parts are bronze (61 Series) or 316 stainless steel (62 Series). " "*The Cv factor is the gallons of water per minute " " that the valve will pass with 1 PSIG pressure drop. Note: Not recommended for use " with reciprocating pumps.