CP Air Hammer - Heavy Duty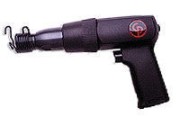 Order Now:
call sales at
1-800-541-6351
7-5 PST M-F or
sales@spokanehose.com
any time
Or, use the quote form below to send a quote request.
CP Air Hammer - Heavy Duty
Powerful, yet economical for fast cutting action. Vibration isolation system for smoother operation and greater comfort. Unique cushioned exhaust deflector on barrel for comfort and control. Touch trigger for precision start ups and total control. Ideal for exhaust system work, bolt cutting, bushing driving, shearing and front end work. Blows per minute is 3,200. CP7110K Kit includes air hammer plus a posi-lock retainer and four chisels packed in a heavy duty carring case.