IR Air Mini Polisher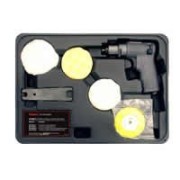 Order Now:
call sales at
1-800-541-6351
7-5 PST M-F or
sales@spokanehose.com
any time
Or, use the quote form below to send a quote request.
IR Air Mini Polisher
This polisher is ideal for buffing and polishing paint, metal and plastic surfaces to a high-gloss finish. With a free speed of 6,000 rpm it delivers the same performance of polishers twice itís size. The double-sided, adjustable speed settings provide variability for a broader range of applications.