IR Air Shear - Heavy Duty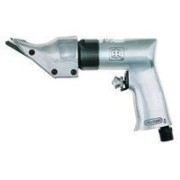 Order Now:
call sales at
1-800-541-6351
7-5 PST M-F or
sales@spokanehose.com
any time
Or, use the quote form below to send a quote request.
IR Air Shear - Heavy Duty
Versatile cutting shear that makes clean cuts in cold rolled steel up to 20 gauge without chips. Ideal for body shops, sheet metal shops, air conditioning fabricators, plastic fabricators, heating contractors and machine shops. Cuts squares, angles and circles. Long-life tool with heavy duty cutting blades. Shears most types of plastics and all types of aluminum, tin and steel.