IR Air Hammer - Standard Duty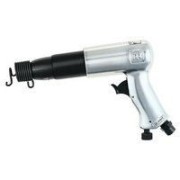 Order Now:
call sales at
1-800-541-6351
7-5 PST M-F or
sales@spokanehose.com
any time
Or, use the quote form below to send a quote request.
IR Air Hammer - Standard Duty
An economical air hammer with a longer piston stroke. This tool is designed for exhaust work, bolt cutting, and front end work. the trigger control and built-in power regulator give you full control of the speed and power. Longer stroke piston. Alloyed steel barrel and heat-treated piston for longer life.