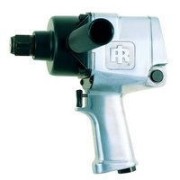 Order Now:
call sales at
1-800-541-6351
7-5 PST M-F or
sales@spokanehose.com
any time
Or, use the quote form below to send a quote request.
The shortest 1" drive air impact wrench is also one of the most powerful. It combines a very compact size with high power output, making it ideal for tire changing, spring work, pinion nut and tractor pad removal and shock work. Impressive power-to-size ratio. Pressure-feed lube system for longer service life. Dead handle improves operator control.