IR Air Impact Wrench - 3/8" Super Duty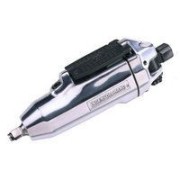 Order Now:
call sales at
1-800-541-6351
7-5 PST M-F or
sales@spokanehose.com
any time
Or, use the quote form below to send a quote request.
IR Air Impact Wrench - 3/8" Super Duty
Puts power and ergonomics in the palm of your hand. This durable in-line wrench is handy for the small cramped spaces common to small engine repair and other general service work. The butterfly-style throttle valve lets you adjust speed smoothly in either direction in one continuous motion. Contoured composite butterfly throttle. Maximum torque 175 ft.-lbs. Powerful pin-style hammer mechanism. Compact and durable in-line housing, ideal for work in small spaces. Recessed regulator dial. 180° swivel inlet.