Sign Mounting Brack-It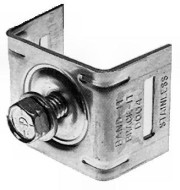 Order Now:
call sales at
1-800-541-6351
7-5 PST M-F or
sales@spokanehose.com
any time
Or, use the quote form below to send a quote request.
Sign Mounting Brack-It
"Used to mount traffic signs securely with Band-It Band and Buckles, Valustrap, Valustrap Plus or " "Free-End clamps. Reinforced with specially designed ribbing, for extra strength, to withstand " "stress and wind vibration. Brack-Its are available with or without bolts. The hex head bolts, " "with metal and fiber washer, require no nuts and are fully threaded to solidly anchor sign. " Mini-Brack-Its are the economical choice when mounting small signs.