Y Shut-Off Connector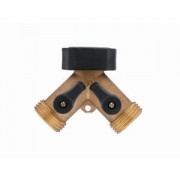 Order Now:
call sales at
1-800-541-6351
7-5 PST M-F or
sales@spokanehose.com
any time
Or, use the quote form below to send a quote request.
Y Shut-Off Connector
"Twin shut-off valves control water flow for two hoses. " "Cap type valve handles resist breakage. " "Longer legs prevent hose kinks at faucet. " Full ball and retainer rings reduce leakage, even at low pressure.