Rubber-Air Brake Nut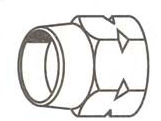 Order Now:
call sales at
1-800-541-6351
7-5 PST M-F or
sales@spokanehose.com
any time
Or, use the quote form below to send a quote request.
Rubber-Air Brake Nut
Hose Ends Series: 338 'B' Series Typical Application: Air brake hose lines Compatible Hose: J1402B Pressure: Determined by maximum working pressure for hose size Material: CA360 brass Advantages: Can be used for nearly any air brake line. Easy to assemble with a good selection of hose end configurations. Brass material offers excellent resistance against corrosion. Assembly Instructions: 1.Slide nut and sleeve onto hose. Make sure bevel edge of sleeve faces out toward fitting. 2.Push hose into fitting until it bottoms. 3.Screw nut until contact is made with body hex. Note: Configurations and dimensions subject to change without notice.