CP Air Hammer - Super Duty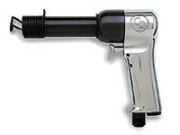 Order Now:
call sales at
1-800-541-6351
7-5 PST M-F or
sales@spokanehose.com
any time
Or, use the quote form below to send a quote request.
CP Air Hammer - Super Duty
Most powerful air hammer for automotive, truck and off-road equipment. Positive action trigger for precise control. Ideal for front end work, king pin removal and installation of bull dozer walking beams, removal of truck springs and heavy duty spring bushings. Blows per minute is 1,800 rpm.