CP Air Hammer - Heavy Duty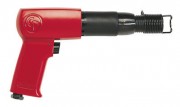 Order Now:
call sales at
1-800-541-6351
7-5 PST M-F or
sales@spokanehose.com
any time
Or, use the quote form below to send a quote request.
CP Air Hammer - Heavy Duty
Most powerful hammer in its class. Longer piston strokes for more force per blow. Integral muffler minimizes exhaust sound. Ideal for bolt and rivet shearing, bushing driving and overall front end work. Blows per minute is 2,100. CP715K Kit includes air hammer plus a four piece chisel set packed in a heavy duty carrying case.