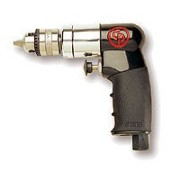 Order Now:
call sales at
1-800-541-6351
7-5 PST M-F or
sales@spokanehose.com
any time
Or, use the quote form below to send a quote request.
General purpose non-reversible drill. Fast at 2,800 rpm. Compact and lightweight for easy handling. Ergonomic grip for comfort and control. Jacob's chuck 1/4" capacity. Planetary gearing with brass bushings for low-wear and long life. Adjustable exhaust. Excellent for drilling, honing, reaming and hole sawing.