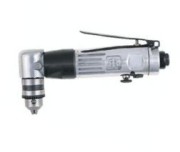 Order Now:
call sales at
1-800-541-6351
7-5 PST M-F or
sales@spokanehose.com
any time
Or, use the quote form below to send a quote request.
One in a new family of economical, standard duty tools, this drill is an excellent choice for service work requiring a compact, low profile angle head. Itís a durable, reliable tool for drilling in all types of materials, including sheet metal, wood and composites. Durable Jacobs multi-craft chuck. Reversible with convenient control. Comfortable lever throttle. Grease plug for easy preventative maintenance. Precision machine gearing ensures maximum power transfer and durability.