Graphite 50 Anti-Seize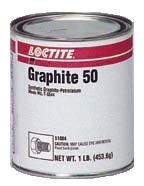 Order Now:
call sales at
1-800-541-6351
7-5 PST M-F, 8-Noon Saturday or sales@spokanehose.com any time
Or, use the quote form below to send a quote request.
Graphite 50 Anti-Seize
"Metal free, electrically conductive, non-metallic. " "Temperature resistant up to 900° F. " Highly electrically conductive in metal-to-metal joints.