680 Retaining Compound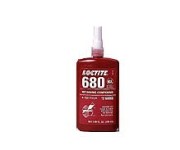 Order Now:
call sales at
1-800-541-6351
7-5 PST M-F or
sales@spokanehose.com
any time
Or, use the quote form below to send a quote request.
680 Retaining Compound
"A high viscosity retaining compound for joing fitted cylindrical parts. " "Fixtures in 10 minutes and provides a shear strength up to 4,000 psi on steel after 24 hours. " Fills diametral gap distances up to 0.015".