Giant Button Head Fitting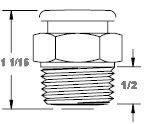 Order Now:
call sales at
1-800-541-6351
7-5 PST M-F, 8-Noon Saturday or sales@spokanehose.com any time
Or, use the quote form below to send a quote request.
Giant Button Head Fitting
"Similar to the standard button head, except larger diameter to withstand the roughest usage. " Features dirt excluding plunger check valve Maximum pressure is 15,000 psi.