Hose and Tube Cutter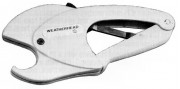 Order Now:
call sales at
1-800-541-6351
7-5 PST M-F, 8-Noon Saturday or sales@spokanehose.com any time
Or, use the quote form below to send a quote request.
Hose and Tube Cutter
"One hand operation for quick, clean cuts through plastic or nylon compound tubing and solid or fiber-reinforced hose up to 1½" O.D. " Note: Not for use with wire-reinforced hose.